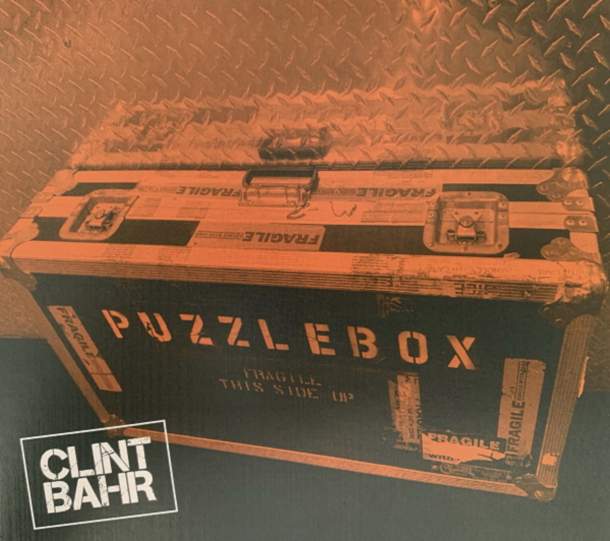 Bass virtuoso Clint Bahr releases new solo album "PUZZLEBOX" Feat. Members of King Crimson, YES, Van Der Graaf Generator, Sun Ra and others!
bass virtuoso Clint Bahr just released a new solo album »PUZZLEBOXon Moonjune Records. The album features members of King Crimson, YES, Van Der Graaf Generator, Sun Ra and more!
Clint Bahr's new band, also named PUZZLEBOX, is a multi-dimensional "Tabula Rasa" in composition and improvisation formats. PUZZLEBOX is a global collaboration of genre-defying artists, a cross-pollination of diverse instruments and talents.
Delightfully blurring stylistic and structural approaches, the tight-knit unit that Bahr has assembled proves as unpredictable as it is adaptive, articulate and gifted. "PUZZLEBOX" harks back to prog at its peak when albums as uninhibited and off-script as King Crimson's "Lizard" and Captain Beefheart's "Trout Mask Replica" were celebrated, and the Canterbury renaissance was in full swing. It goes back to the same "going beyond" mentality that defined his seminal New York-based power trio, TriPod. Brilliantly arranged and produced, Clint Bahr delivered a multi-faceted and timeless epic…at a time like this.
Bahr says, "I decided to do a 'solo' album with friends from the UK and the US. They include former members of King Crimson, Anthony Braxton, Television, Van der Graaf Generator, Sun Ra, Flash, TriPod, Gloria Gaynor, YES, Andromeda, and more. The album is a 50/50 compilation of composed and improvised tracks. More so, PUZZLEBOX is a recording and touring band with interchangeable players from around the world with a core bass and drum section.
Clint Bahr – Composer/Lyricist
(Vocal, 12/8/4 String Basses, Chapman Stick, Acoustic Guitar, Mandolin, Piano, Harmonium, Mellotron, Theremin, Percussion, etc.)
Formerly of TriPod, Andromeda, Flash, 40 Families, Menage a Trois, as well as bassist for Eartha Kitt. He has toured nationally and internationally. Progressive Edge Magazine listed it on their "TOP BASS PLAYER of 2002" list. He has recorded for Columbia Records, MoonJune Records and various independent labels, and was a recipient of the 2021 NYC Artists Corps Grant.
List of tracks "PUZZLEBOX"
1. Tabula rasa 1
2. New design
3. Plate (Impro)
4. Shelter
5. As eardrums melt in the Greek heat (improv)
6. Fall from Grace
7. Belt and Suspenders
8. Triangles, circles and squares (improv)
9.Oslo
10. Kick in the Wasp's Nest
11. Lifeguard in the Rain
12. Tabula rasa 2
With:
Clint Bahr – bass and vocals (TriPod)
Peter Banks – guitar (Yes)
Colin Carter – vocals (Flash)
Marilyn Crispell – piano (Anthony Braxton)
David Cross – violins (King Crimson)
Stephanie Feyne – dialogue (The Dotes)
Billy Ficca – drums (Television)
Dick Griffin – trombone (Sun Ra)
Mike Hough – drums (Flash)
David Jackson – wood (Van der Graaf generator)
Dan Parkington – sitar & violin (Andromeda)
Jeff Schiller – wood (The Roots)
To buy:
BAND CAMP: https://clint-bahr-moonjune.bandcamp.com/album/puzzlebox?fbclid
AND also from the website: https://www.puzzlebox.band/