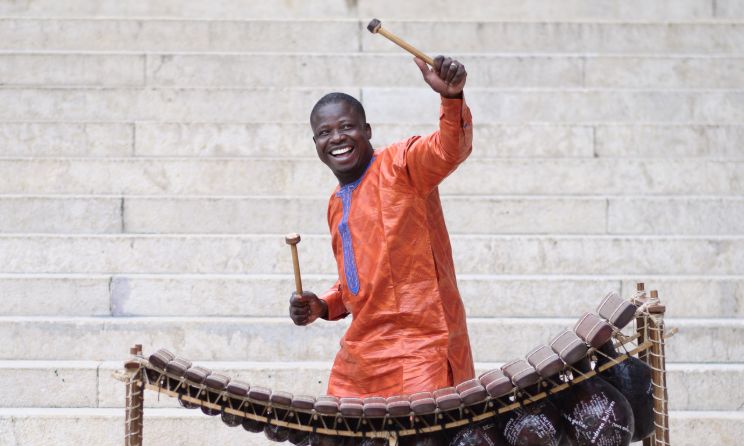 Burkinabe balafon maestro Mamadou Diabaté releases his new album Seengwa
Seengwa is a tribute to the almost forgotten musical traditions of the Sambla people in Burkina Faso, who developed a language with the xylophone-like instrument, which they call "balafon".
On the project, Diabaté, based in Austria, is supported by the six-piece band Percussion Mania, which takes the listener on a rhythmic journey mixing traditional West African dance music, jazz and classical music.
A standout piece from the project is 'Duniya Banaba, in which the balafon language is translated into French for the first time by slam poet Malika La Slamazone, also from Burkina Faso.
Diabaté comes from the Jeli family, famous for its music and its tales among the Mande. His professional musical education began at the age of five. He has been described as "a balafon player with more than two hands". His unique and self-taught technique allows him to play exquisite balafon solos, which give the impression that three balafonists are playing together.
He now has 13 albums to his credit, with his debut Kenya released in 2001. He has also taught the Sambala Balafon language at various universities in the United States and Canada.
Diabaté is the recipient of several awards and has been a Knight of the National Order of Burkina Faso since 2016. He has worked with many musicians of different styles and backgrounds, including France-based Malian piano virtuoso Cheick Tidiane Seck and legend of the Toumani Diabaté kora, including the others. His concert tours have taken him to four continents and to a number of renowned festivals, including WOMAD (UK), Saalfelden Jazz Festival (Austria), Afrika Festival Würzburg (Germany) and Rain Forest Festival (Malaysia).
To transmit his knowledge of the balafon to young musicians in his country of origin, Diabaté opened the Sababu school in his native village of Bobo Dioulasso, where 600 children are currently educated free of charge. He is also continuing his residency work in collaboration with linguistics professor Laura McPherson at Dartmouth College in the United States, exploring the link between language and music.