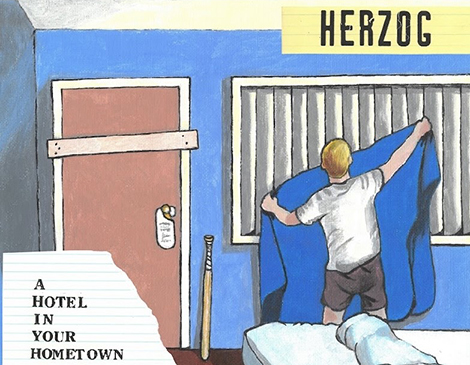 Cleveland Indie-Rockers, Herzog, Release New Album July 29
Herzog — releases his new album, A hotel in your hometown, July 29 – is a name you might not recognize unless you're from Cleveland. But lyricist Tony Vorell thinks it's a key signing in their craft.
"We like to write about Cleveland stuff, Cleveland people," Vorell says. "I don't think people outside of Cleveland will get some of the characters we're talking about because ideally they're people you know. It's sort of the goal of a writer…as well as people who have been around us for so long.
Formed in 2010, Herzog, made up of Vorell, guitarist and vocalist Nick Tolar, bassist Charlie Trenta, drummer Dan Price and Dave McHenry, has an impressive musical catalog. Since their 2011 debut album, Look forto their latest version, A hotel in your hometown, it's clear the band finds solace in making the music recognizable to most Cleveland residents.
On their new project, Herzog's sound changes completely. Instead of the fast drummer pace evident throughout their work, the band had to start from scratch after Price took paternity leave throughout 2019 and 2020. Resorting to a calmer, less intense tone and making experience of recording pandemic delays, Herzog finally achieved a newfound peace with what would be A hotel in your hometown.
Ahead of Herzog's album release at Brothers Lounge on July 29, we spoke to the colorful and introspective lyricist about the inspiration behind the band's name, A hotel in your hometown and perform after months of live performances.
Cleveland Magazine: How did Herzog form as a band?
Tony Vorell: "I met Nick in the fall of 2001, so quite a long time ago in Cleveland State. We had a folk band then called Expecting Rain that ran its course. Around 2010 or so, we started making rock music I changed the name to Herzog. Dan Price had been around us for a while, but he became a drummer, and then we gradually added Dave and Charlie.
CM: Herzog is an interesting name. Where does inspiration come from?
TV: "Nick chose this name. There is a director, Werner Herzog, who today is best known for his documentary work. He did graying man, Happy People: A Year in the Taiga. He also has a fictional narrative work, Fitzcarraldo and Green Cobra. He's really into his really primitive human instincts, like "What drives people to such extremes?" He talks about some pretty extreme stuff, so it's definitely a tribute to Werner Herzog. The other one that comes up a lot is that there's a St. Louis Cardinals coach named Whitey Herzog, and he was a baseball coach. I'm a baseball fan, so it's just kinda stuck.
CM: What happened to make your new album, A hotel in your hometown?
TV: "In 2018 and 2019 we recorded material for a single project which was our last record which ended up being called Fiction writer, and it was a very hard and straight material. Towards this process, we started to write and record some more full material or silent material. Charlie, our bassist in the band, wanted to break out his mandolin, so we started writing more in that vein. Some of that was cut short by the pandemic, obviously we had to take some time out there, but we were able to continue writing independently. As soon as we could sneak things in, they finished recording A hotel in your hometown. This was done late last year, so we just have to wait for it to be released.
CM: What differentiates this new project from the previous ones?
TV: "It's definitely a change in intensity. Dan Price was on maternity leave for 2019, 2020. He and his wife had a kid, so there's a lot less drumming, mostly acoustic guitars versus upright electric guitars. My narrative approach as a writer hasn't changed much. I'm still very obsessed with characters, and location, setting, and storytelling are always my focus. The way things came together sonically was very different, as well as how we approach the live show, which is another thing definitely necessitated by the pandemic. Usually we would write songs, go out and play them, then play them again a month later, but we couldn't play much. We've had all of this material, and we're aware that this material might not translate well to a live broadcast. So we're only going to do one, maybe two shows before going back to more traditional rock and roll. In the old days we were a pretty good live band. I mean we were loud and fast and tight, and so it's a departure from that.
CM: Cleveland is known for having a diverse and creative music scene with an array of artists and genres. What do you think makes the Cleveland music scene so special?
TV: "We are through and through a group from Cleveland. We want to go on tour in 2019. It was cool, but it was also terrible. Nick and I have been active for a really long time now, so we have lots of friends who are willing to support us both by showing up for the show, buying records, as well as being people we love to play with. . There's a level of talent here that's incredible. It's just a treat, like we've rehearsed this show live and we're going to have a nine-piece band. It was so good to be with these guys again. It was funny."
CM: You and Nick Tolar have had quite a musical history, starting in 2001. How was that attributed to Herzog's longevity?
TV: "It's going to sound like a Hallmark card, but the relationship between Nick and I is very strong. We text every day, just like talking and hanging out. We have an ability to smooth things over between the two of us. I believe in his story very much. he believes in me. I'm very excited to work with him even after 20 years. I mean, it's as simple as that. This relationship is really important. He's been with us the second longest, then Charlie and Dave. We really got to work on our relationship, our friendships, we care about each other a lot. It's better than having to fight people or being jealous or mad at people. , and that makes a difference.
CM: What can fans expect from your next release on July 29? Future projects for the group?
TV: "In order to recreate everything on the album, we're bringing in additional musicians because it's so complicated. There's no way Charlie can play bass and mandolin at the same time, so we have a lot more many of these songs will be played live for the first time on the 29th. been able to play this material. The dynamic will be very different. There will be a lot more voices, a lot more singing. It's going to be a great show, and we could try to repeat this program in September at Happy Dog, but it depends a lot on the availability of nine players. We're really pushing because we haven't played all year. The last time we played was in December 2021, so there will be new material and there will be a lot of musicians on stage. I think it is really special. Personally, I can't wait to see rehearsals, but I've never really seen it live because we've never done it. Tickets start at $15.00, 8:30 p.m., 11609 Detroit Ave., Cleveland, 216-226-2767, brotherslounge.ticketleap.com