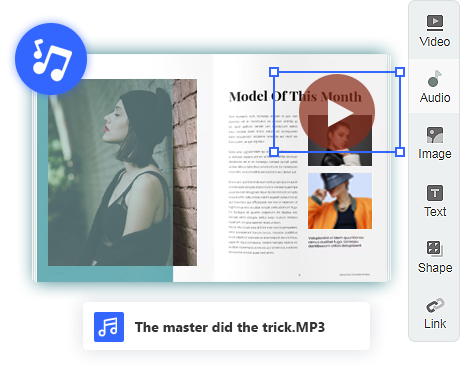 Create stunning magazines with FlipBuilder's free magazine maker software
Unlike traditional layout or publishing software, users can easily download the magazine maker on FlipBuilder for free, and likewise, it is also very easy to use.
Digital publishing has changed the world of book reading. Nowadays, digital books, magazines and brochures are widely shared on the internet. They catch the audience's attention better with the new page flipping mode, multimedia display and exciting content layout. 3D digital books, catalogs and other publications can effectively leave a lasting impression on people and help improve content reach. However, it is hard to find powerful and free magazine maker software online. Here, Flip PDF Plus Pro comes to the rescue.
Flip PDF Plus Pro is a free, professional and easy-to-use magazine creation software tool. It's packed with rich design plugins and high-quality editable design templates to roll out a fantastic custom magazine in minutes. Users can animate their elements and show or hide the element as per their requirement. This free magazine maker software is designed to combine the world of printing and cutting-edge technology, giving audiences a unique digital magazine experience.
This free magazine maker software also helps streamline sales processes for various businesses. When users create a clothing magazine, product catalog, promotional flyer, they can integrate e-commerce portals and mobile apps that display detailed product information for buyers to see.
Ivan Leung, CTO of FlipBuilder says, "Our research and development team is dedicated to providing users with the best, most efficient and cost-effective solutions for their digital publishing needs.
This free magazine maker software allows users to add their brands' logos and videos to market their brands and build brand awareness. It also builds brand credibility as customers will trust brands and their products. The best part is that all the information included in the magazines will be protected in the FlipBuilder Cloud through the Amazon S3 service.
For more information on free magazine maker software, please visit FlipBuilder.
About FlipBuilder
FlipBuilder is an innovative and professional digital publishing platform, providing the best solution to convert static PDF files into a beautiful online flipbook. From design to delivery, we focus on ease of use and operating power. Unlike traditional print publications on paper, you can create a stylish digital magazine online in several steps.