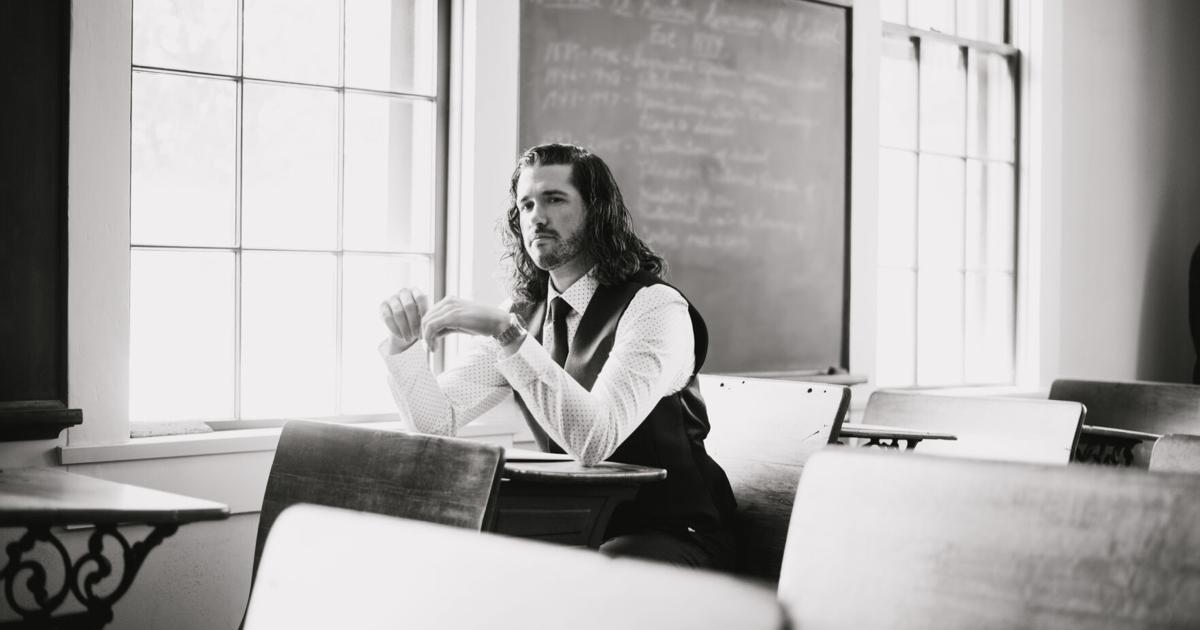 Former Floyd Central Theater Director Releases Album | New
SOUTHERN INDIANA – The former theater director of a local high school has released an album depicting his journey as he embarks on new opportunities.
Robbie Steiner served for nearly a decade as the director of Floyd Central Theater Arts before leaving this year, and last Friday he released his debut album "Out of Character," which is a cover album made up of tunes from Broadway shows.
For Steiner, this album is an important step as he leaves the field of theater education. He plans to pursue a career in the theater industry as a performer and set designer.
"This album has kind of been with me for a while – it's something that I wanted to do but never had the time to do," he said.
Steiner, who is a tenor, performs songs by Broadway composers such as Stephen Sondheim and Andrew Lloyd Webber.
He collaborated with Scott Bradley, the resident musical director of the Derby Dinner Playhouse in Clarksville, to create the album. Bradley arranged, mixed and produced the tracks. Steiner recorded the album at DSL Studios in Louisville.
"We ended up making a list of songs, and I don't even think I realized back then how much they really reflected a transitional moment that I ended up being in," Steiner said. "Most of them are focused on change and growth and exploring something new – that kind of thing. The inspiration, I think, was just a little deeper than I thought. "
Steiner grew up performing in local theater productions. He graduated from Our Lady of Providence High School in Clarksville and studied theater and education at Indiana University in Bloomington. He started working at Floyd Central in 2011.
"Really, most of my adult life has been spent in theater education and doing everything except acting," he said. "I have directed, produced and / or designed more than 50 productions [at Floyd Central].
During the COVID-19 shutdown, Steiner began performing songs from his home, and he shared them on social media in a series he called "COVID Carols". These songs served as motivation for him to share his talents.
"In that very dark time, a number of people who were really locked up were looking forward to them every day," he said. "It was really emotional for me, and it helped me realize that this is a gift I should share."
He took a sabbatical from his position at Floyd Central during the 2020-21 school year, and by the end of it, he realized he was ready to "move on. and explore new things ". He started working on the album during his period.
He officially stepped down as director this year, and Brooklyn Chalfant, who served as interim director while on sabbatical, was named the new program director this year.
During Steiner's time as theater director, the program received numerous accolades. It was named "Best Drama School in the Midwest" by Stage Directions magazine in 2013 and was recognized by the Educational Theater Association as one of the nation's top high school theater programs.
The program has also been invited to pilot a number of high school productions, including Disney's "Newsies" and productions such as "Newsies" and "42nd Street" have been invited to perform on the main stage at the International Festival of theater.
"I absolutely loved my job at Floyd Central – it was truly a dream job," Steiner said. "It got to the point where I had my own learning and my own growth that I really wanted to do. Personally, I felt the need to move away from teaching to be a student of life in a certain way and also to develop a lot of professional skills in myself that I was developing in others. So I decided it was the right time.
Steiner is currently the Deputy Program Director of Campo Rancho Framasa, a Catholic camp and retreat center in Brown County. He plans to move to New York in February.
"Unless something pushes me in another direction, I'm going to move to New York and start hammering the sidewalk," Steiner said. "I'm going to audition, network, watch shows, meet people and explore opportunities. "
The first song on the album is "This Is the Moment" from the musical "Jekyll & Hyde," which sets the tone for the whole album, Steiner said. The song was also released as a single prior to the release of "Out of Character".
"The song is very thoughtful – it's thoughtful, but it's also extremely motivated and motivated," he said. "That's kind of where I am right now – I'm both thoughtful and motivated right now," he said. "I look inward a lot and I'm really stepping into territory that's a little bit scary but also really exciting," he said.
The album contains a total of 12 tracks. The song "Pink Fish" is the only track from "Out of Character" that was not from a musical, but it was written by composer Alan Menken, known for his work on the Disney films. The song is about a man who moves to New York to become an actor.
"It's kind of how he feels comfortable with the city and with himself and with people who have totally different worldviews and experiences from him," Steiner said. "It's a wacky song, but I really like it because it kind of reflects my attitude of wanting to meet all kinds of people and experience different cultures."
The album is meant to be listened to in order and in its entirety, according to Bradley.
"I really hope everyone who listens to it will listen to it as a complete album," he said. "That's how Robbie designed it. You can rip a song and listen to it out of order, but the sequence of songs – we see it as kind of a guideline, and we hope everyone can enjoy it that way.
Bradley was instrumental in the development of the album, and brought "a ton of creativity and expertise to it," Steiner said.
The studio sessions were designed by Mike Baker of DSL Studios, and a number of local instrumentalists performed on the recording, including Chris Bryant on violin, Jon Silpayamanant on cello, Stacy Simpson on trumpet, Chris Fortner on trombone , Miles Davis on saxophone and clarinet. and Michael Vettraino on guitar. Bradley also played keyboards.
"Recording something like that, creating something and working with a team of really creative people – it's a very vulnerable experience, and I'm so hungry to learn right now. I absolutely loved it, "Steiner said.
"You walk into the recording studio and start singing, and you immediately hear the playback. You realize all the flaws and you hear everything. What this offers is a great opportunity to grow. While it could have been very intimidating, I found it to be a lot of fun. I thought I could do better, let's fix this. I really feel like I grew up as a singer because of that experience, so it was awesome. It meant a lot.
Bradley has worked with Steiner in the past to help with the musical direction of acting classes and productions at Floyd Central, and he got a call from Steiner after starting the COVID Carols project.
The project continued to grow throughout the process, Bradley said. They initially thought about creating the album from a home studio, but eventually expanded it to include original arrangements, a professional recording studio, studio instrumentalists, and a studio engineer.
Bradley said the album showcases Steiner's "belief in what to do" and his "commitment to self-expression."
"He made the decision to do it, and there is no going back," Bradley said. It's part of what a successful artist is. It's like, 'I'm going to do this, these are my choices, this is how I feel about it, this is my take on a particular song.' "
Steiner notes that her album is dedicated to Debbie Kay Raque, a local performer and voice teacher who died in January 2020. He started taking voice lessons with her in elementary school.
"I really give him credit for being the person who gave me the tools at a young age to do theater and play," he said. "She's been on my mind and my heart throughout the project, and I hope she enjoys the music."
Sharing this music has been a meaningful experience, said Steiner.
"When I sing, I am the happiest and I love life," he said. "I know music does the same with other people, and I've shared songs that mean a lot to me with people who can find joy and meaning in them too."