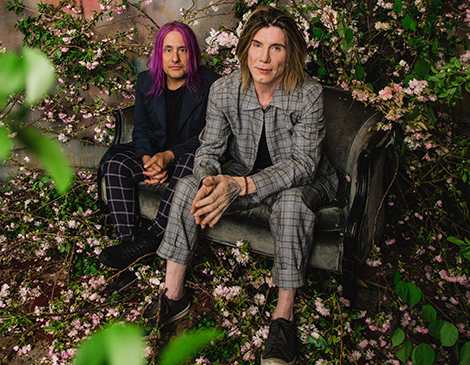 Goo Goo Dolls' Robby Takac Talks New Album and Cleveland Memories
With a new album, blooming chaos, dropping August 12 and touring through The Land two days prior, we caught up with the bassist to chat about the band's latest album, oldies and their history in Cleveland.
Unbeknownst to many, Goo Goo Dolls has a long history with The Land.
Prior to releasing the '90s radio rock hits "Name" and "Iris", the band – then a trio comprising vocalist-guitarist John Rzeznik, bassist Robby Takac and drummer George Tutuska – often stuffed their gear into a car and was doing the three-hour trek from their hometown of Buffalo to Cleveland. The band's early punk sound probably fits in surprisingly well at the now defunct Peabody's Down Under, where the band played their first gig in Cleveland in 1990.
"We were children," says Takac. "Cleveland has always been really supportive of us."
Nearly two decades later, the Midwesters are back on the road for their first tour since 2019. Two days after gracing Cleveland's Jacobs Pavilion at Nautica on August 10, the band plans to release their latest album, Blooming Chaos.
Largely crafted and recorded in the midst of the pandemic, the album reflects the difficulties amplified by COVID-19. Songs like "Let the Sun" explore inequality, while "Loving Life" addresses the band's disenchantment and search for hope in today's social landscape. Despite these heavier themes, the album is neatly wrapped in a pop-rock arc, equipped with high-pitched sarcasm and stadium-ready choruses.
Before witnessing the band's return to northeast Ohio, we caught up with bassist and co-founder of Goo Goo Dolls to talk about post-pandemic touring, balancing new and old music, and rock in Cleveland over the years.
Cleveland Magazine: This is your first full-fledged tour since 2019, how do you feel about getting back on the road after all this time?
Robby Takac: I feel like the pandemic has been an incredible disruption of what we're used to. You know, we're still playing. We are still on tour. And we stayed home long enough for me to grow tomatoes twice. Long duration. Although it was nice to be home and be with my daughter for a while, it really changed the rhythm of our lives. I can't wait to get back to that rhythm. And you know, I just feel like things are getting a little more back to normal.
CM: Is there a concern about feeling rusty, or is it just back to business as usual?
RT: I don't think we felt rusty. For the past six months, we've been doing three or four shows a month, you know, just here and there, so I don't feel that at all. But I feel like there are some amazing wildcards in how things are working with COVID right now. Sometimes people just have to disappear [if they test positive]. And it happened many times, even before this tour. We're really careful to be able to cover all of these things, but that's the one thing that makes me a little nervous about this trip. We will try to protect ourselves from the pitfalls and consequences of this kind of thing.
CM: For the upcoming tour, you have your new album to promote and a long list of iconic hits like "Slide" and "Iris" that people want to hear – how do you strike a balance between fresh and iconic when building your set list?
RT: It's always the dance you do with people, you know? You [have] be careful and aware of how you put yourself together. People will listen and enjoy a new song – you just can't hit them over the head with them. Keep bringing it back to something they know and something that feels good, something that feels comfortable, and they can try something new. But yeah, I think that becomes a problem with a band like us. We've been around long enough and have released enough singles that there are plenty of songs people want to hear. Interesting problem to have, though, for sure.
CM: How does it feel to release these classic hits today?
RT: I think if you lose touch with the magic or the joy or just the miracle that happens when people are all on the same page and sing a song together – I think if you lose the magic of that then that work is quite weird. That's why we go in there. That's why everyone gets into it right from the start. And I think if you lose that, then it's a really miserable existence.
CM: Switching from old to new, tell us about the new album to come.
RT: We started the record during the pandemic, and everything was wrapped up. This process had not been so isolated since we were children. [We] just came in together and made a record. John Rzeznik chose to produce the record, which gave us the opportunity to have a producer who was not on a clock like most producers. He could experience so many things and try so many different things and go to so many places he had never been before. I think there's a lot more purity of process with this record than there has been with previous records.
CM: Ahead of the next show, are there any stories or memories you can share from your gigs in Cleveland over the years?
RT: We used to play Peabody's when we were kids. When was it? 1990 that we played Peabody's down under? [Editor's Note: It was Nov. 18, 1990.] It was our first time there. We were kind of staying with people and everything. I just remember we got to the early 90s before "Name" or anything even came out. Cleveland has always been really supportive of us. After "Name" came out, we were able to get on some of those radio shows and all that and that opened up a whole new world for us. We have always had an amazing time. You know, it's one of the places where we can throw all our gear in the back of our cars and get there in a few hours, so there were always opportunities for us there.