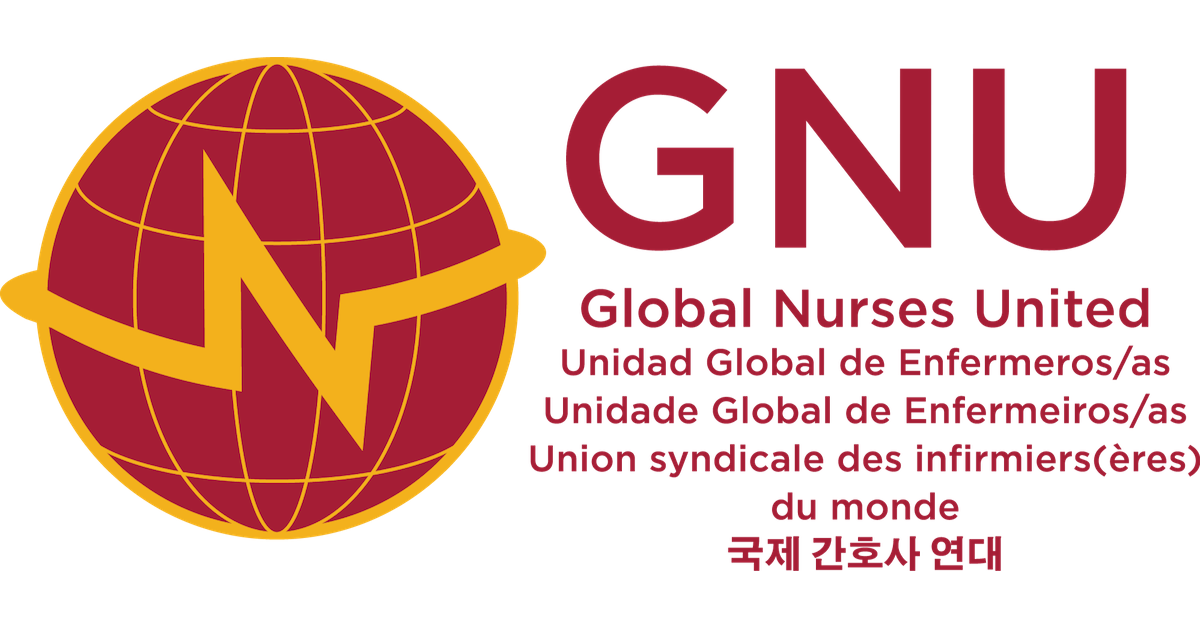 Nurses from 28 countries file complaint with UN alleging human rights violations by EU and four countries for "loss of countless lives" in pandemic
A coalition of nurses unions representing more than 2.5 million healthcare workers from 28 countries around the world, coordinated by Global Nurses United (GNU) and Progressive International (PI), has filed a complaint with the United Nations alleging human rights violations by the European Union, UK, Norway, Switzerland and Singapore during the Covid-19 pandemic, the end of which, they write, "is nowhere in sight ".
In their complaint to Dr Tlaleng Mofokeng, UN Special Rapporteur on Physical and Mental Health, nurses accuse "these countries have violated our rights and the rights of our patients – and caused the loss of countless lives" by " opposition continues to the TRIPS waiver … resulting in the violation of the human rights of peoples around the world.
Read the full text of the complaint and cover letter here.
The European Union, UK, Norway, Switzerland and Singapore have systematically blocked a temporary waiver of intellectual property rights for pharmaceutical companies under the World Trade Organization (WTO) Rights Agreement of trade-related intellectual property (TRIPS Agreement). The South African and Indian governments proposed the waiver to the WTO last year as a way to speed up the manufacture and distribution of Covid-19 vaccines in low and moderate income countries. More than 45% of the world's population has still not received a single dose of the Covid-19 vaccine.
"Covid-19 cases continue to skyrocket in many parts of the world, as pharmaceutical companies and governments have failed to ensure essential treatments and vaccines are distributed equitably to respond to the pandemic." , wrote the nurses unions. "High-income countries have procured over 7 billion doses of vaccine confirmed, while low-income countries have only been able to procure about 300 million doses. This created what public health advocates around the world have described as "vaccine apartheid."
Dr Mofokeng responded, welcoming the position presented by nurses and activists.
"The main demand from nurses is the one I share: States have a collective responsibility to use all available means to facilitate faster access to vaccines, including by introducing a temporary waiver of relevant intellectual property rights under the 'WTO Agreement on Trade-Related Intellectual Property Rights. (TRIPS Agreement), "she said. "Nurses and healthcare workers have been on the front lines keeping us safe and have witnessed the most painful and heartbreaking effects of the Covid-19 pandemic. Their clear commitment to the right to physical and mental health gives them moral authority. "
Signatories to the petition include major nursing and healthcare unions from Australia (Australian Federation of Nurses and Midwives), Brazil (Federação Nacional dos Enfermeiros), Canada (Canadian Federation of Nurses and Midwives) nurses and Interprofessional Health Federation of Quebec), Costa Rica (Asociación Nacional de Profesionales en Enfermería [A.N.P.E.]), Curaçao (Curaçaose Bond Van Werknemers in Verplegende en Verzorgende Instgellingen), Dominican Republic (Sindicato Nacional de Trabajadores de Enfermería), Greece (Pan-Hellenic Federation of Nurses (PASONOP), Guatemala (Sindicato Nacional de los Trabajadores) de Salud de los Trabajadores) de Salud de los Trabajadores) , Honduras (Asociación Nacional de Enfermeras / os Auxiliares de Honduras), India (United Nurses Association), Ireland (Irish Nurses and Midwives Organization), Israel (Israeli Nurses Association), Italy (Nursind), Kenya (Kenya National Union of Nurses) , Malawi (National Organization of Nurses and Midwives of Malawi), New Zealand (New Zealand Nurses Organization), Paraguay (Asociación Paraguaya de Enfermería), Philippines (Filipino Nurses United), Portugal (Sindicato dos Enfermeiros Portugueses), Rwanda (Rwanda Nurses) and Midwives Union), South Africa (The Democratic Nursing Organization of South Africa [DENOSA]), South Korea (Korean Union of Healthcare and Medicine Workers), Spain (Sindicato de Enfermería [SATSE]), Sri Lanka (Government Nursing Officers' Association), Taiwan (Taiwan Nurses Union), Uganda (Uganda Nurses and Midwives Union), United States (National Nurses United) and Uruguay (Sindicato Unico de Enfermería del Uruguay [SUEU]).
PI has filed the full complaint, which builds on the human rights obligations to which WTO member states are legally bound, including the recent expert opinion of the International Commission of Jurists declaring that "it is the responsibility of all states to refrain from blocking the TRIPS waiver" – on behalf of the coalition to Dr Mofokeng on the eve of a WTO ministerial meeting on November 30 in Geneva. The complaint calls on Dr Mofokeng to investigate the "immediate threat to people's right to health caused by the failure of certain states and institutions (European Union and its constituent member states, United Kingdom of Great Britain and of Northern Ireland, Norway, Switzerland and Singapore) to support the proposed Covid-19 waiver to the TRIPS Council of the World Trade Organization. "
Despite President Biden's historic backing in May to approve the waiver, at the request of National Nurses United and many health and human rights activists, it continues to be blocked by the UK, the European Union, Norway, Switzerland and Singapore. on behalf of the multi-billion dollar pharmaceutical industry.
"This uneven distribution of vaccines is not only grossly unfair to people in low and moderate income countries, who remain at high risk of contracting and transmitting more Covid-19, it also provides for the possibility of developing new variants … (which) poses a serious risk to everyone in the world, "said NNU President Deborah Burger, IA.
"The poor distribution of vaccines in the face of more than 5 million deaths, many of them preventable, is a devastating reminder of the deplorable wealth disparity between wealthy nations in the north and south," Burger continued. "Refusing to act simply to protect the profits of giant pharmaceutical companies is wrong, inhumane and must stop. "
"It is high time that the governments of the world put the health of the people first over the profits of multinational corporations by approving the immunization exemption," said Shirley Marshal Díaz Morales, president of the Federação Nacional dos Enfermeiros, representing 632,000 nurses in Brazil. "Nurses around the world have cared for patients throughout this pandemic and have seen incredible suffering and death, and so many nurses themselves have fallen ill and made the ultimate sacrifice. It is a shame that nearly half of the world's population still does not have access to the Covid-19 vaccine. As long as this situation persists, none of us are safe.
"These criminal governments have shown their contempt for health and human rights by blocking a proposal that would speed up the global deployment of a vaccine. Their actions have cost and will continue to cost countless lives and destroy livelihoods. They must be held accountable, "said Varsha Gandikota-Nellutla, PI cabinet member.
"The peoples of the world can take back their international institutions which have been hijacked by a handful of wealthy nations. The United Nations Charter, the WTO, the WHO and international law should benefit all mankind. , we must expose and then defeat the criminals of Covid-19, "continued Gandikota-Nellutla.
"Nurses and other healthcare workers have been at the forefront of the response to the Covid-19 pandemic, and we have witnessed the staggering number of deaths and immense suffering caused by political inaction. We have seen first-hand the appalling toll Covid-19 has had on our patients, communities and fellow healthcare workers, "the petition noted.
"Hundreds of thousands of nurses and other healthcare workers around the world have been infected and many have died. The Covid-19 has claimed the lives of at least 115,000 healthcare workers in the world so far, "they wrote. "The artificial scarcity of vaccines means that only two in five health and care workers are fully vaccinated on average, but the numbers are catastrophic in many parts of the world: less than one in 10 healthcare workers is fully immunized in Africa and the Western Pacific.
"We believe," they concluded, "a new international health order is needed to overcome the vaccine inequity that threatens our very survival …
Citizens can show their support for the action of nurses by adding their name on covid19criminels.exposed.
Global Nurses United represents over 30 leading trade unions of nurses and healthcare workers on all continents.
The Progressive International was launched in May 2020 with the mission of uniting, organizing and mobilizing progressive forces around the world. The PI is supported by an advisory board which includes Noam Chomsky, Aruna Roy, Vijay Prashad, Andres Arauz, Naomi Klein, Yanis Varoufakis, Fernando Haddad, Gustavo Petro and many more. IP members include social movements, political parties and unions that represent millions of people around the world.
Legal support was extended by a coalition of human rights lawyers convened by the Global Network of Advocates of the Movement at the Movement Law Lab, with appreciation for the contributions of the ESCR-Net Secretariat, Gautam Bhatia and Christian Pino.