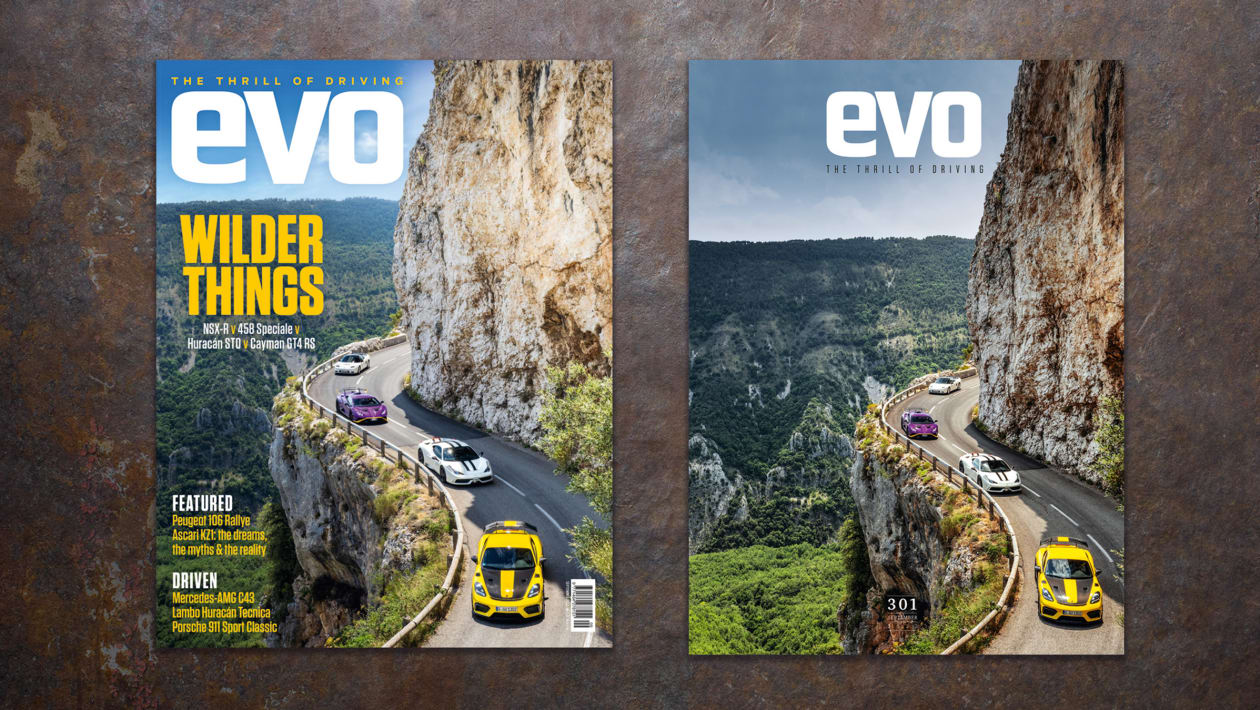 The latest issue of evo magazine – 301 on sale now
The September issue of evolution is now on sale at your local newsagent, supermarket or convenience store, or you can order a copy direct from our new evolution store.
How to get your copy of evo
Number 301 – what's inside
Think about your perfect few driving days and this month's coverage might get pretty close. Number 301 is now on sale in stores and on the evolution boutique, where we rounded up three of the best mid-engined cars of all time to find out if Porsche's new Cayman GT4 RS could be elevated to true greatness.
To do this, Jethro Bovingdon took him to iconic roads like the Napoleon road in the south of France, where Lamborghini's incredible Huracán STO, Ferrari 458 Speciale and Honda NSX-R were waiting to create one of our most spectacular features of recent years.
We also got our hands on the new Porsche 911 Sport Classic, a reinterpretation of the iconic 997.2 generation special edition in 992 form. a unique combination with tailored style touches that convey a retro spirit. This time, however, the changes are very substantial, with totally bespoke bodywork paired with a Turbo engine, rear-wheel drive and manual transmission. Sounds like Porsche 911 nirvana, Stuart Gallagher assesses if it is.
Next, Jordan Katsianis steps into the shoes of the Honda Civic Type R, perhaps the most exciting hot sedan to be revealed in recent years. Not just a numbers car, the new FL5 Civic Type R succeeds the best hot sedan in modern memory, one that consistently realigned our expectations of what a hot sedan was capable of. This new model takes the base of that car, but tightens, stiffens and refines all its elements in a new streamlined shell.
But from the most capable and exciting hot hatchback in history to one of the smallest, Adam Towler drives the original Peugeot 106 Rallye, a car that is both important to the line of hot hatchbacks and Adam's personal experiences with the thrill of driving.
Our last article in this month's magazine is to find out what happened to the Ascari AZ-1. Born into a hotbed of new-era supercars in the early 2000s, Peter Tomalin recounts everything that exactly went wrong for a supercar and his company that had all the right ingredients to become the next Pagani.
Those features join our usual list of first drives, where we try out Lamborghini's next big Huracán, AMG's first application of its powerful four-cylinder hybrid, catch up on the latest ruminations from our esteemed reviewers and check out our ever-expanding fast fleet. For all this and more, pick up your copy at any good newsagent, subscribe or buy a single copy online here to evolution store.